Let's recognize GOOD when we see it!
Too often we talk about the negative instead of the positive.
We don't take the time to say THANK YOU enough!
You can help us change that, and it's

free

.
You'll feel great when you thank people,
and you're going to want to do more of it.
You'll find yourself looking for the positive wherever you go.
Scroll down this page and fill in the request fields -- we'll send some free cards to you, too!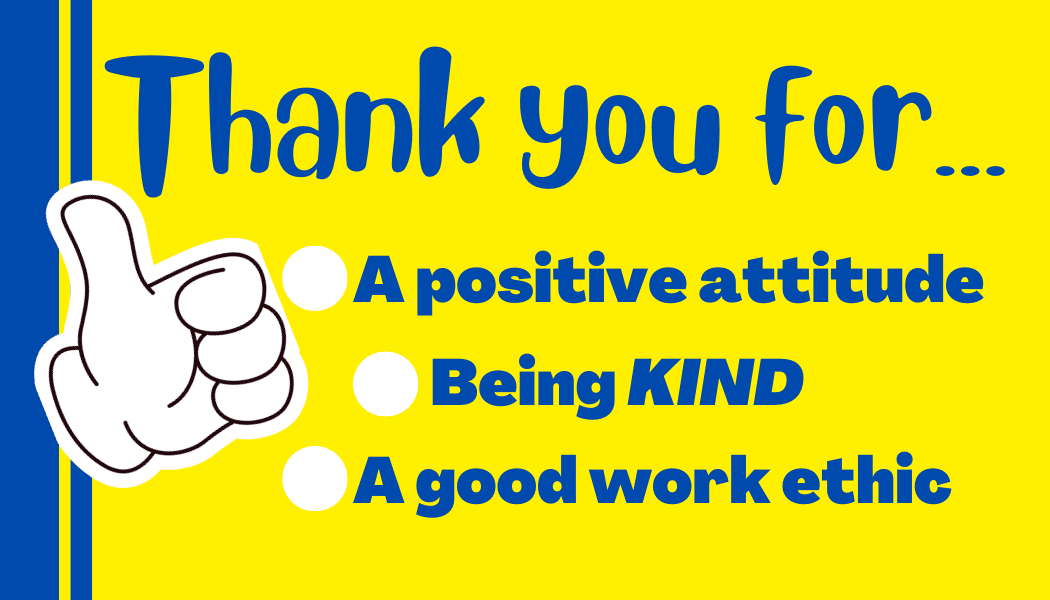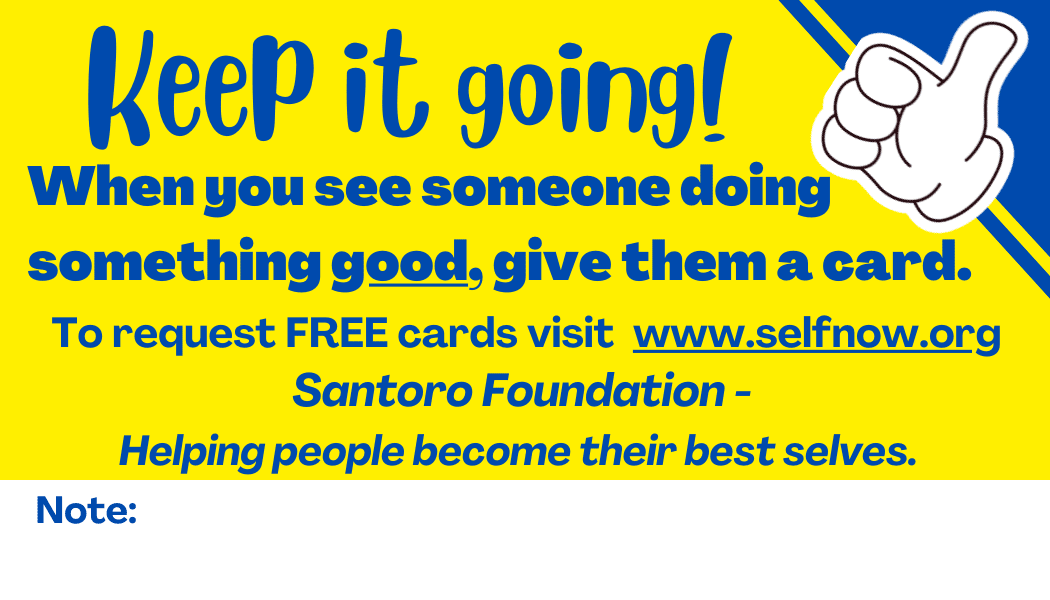 When you see something positive,
or someone demonstrating kindness
or a good work ethic,
thank them with these cards.
The Santoro Foundation is dedicated to helping people become their best selves, and to support that effort, we will provide you or your organization with as many cards as you'd like.
Everyone likes a compliment, or to be acknowledged, and when you have some of these cards on hand it's much easier to give a compliment and say, "Thank you" and spread positivity!
Tips for Handing out Cards & Some Ways to Use Them:
Carry a few cards every day, and challenge yourself to look for a positive attitude, kindness, or good work ethic to compliment.
Smile and tell someone "Thank you!" Give them two cards and a big thumbs up, and tell them to give one away to keep it going too.
Show the front of the card as you hand it to someone, and then show the back of the card and explain what you are doing, and then just say "thank you". You can even write a brief note on the back.
The cards are free and there's no gimmick -- request yours using the form below.
Give two of them to staff in stores, restaurants, doctor's offices, or other businesses when you see someone who is positive, kind, or displaying a good work ethic -- one for them, and one to give away.
Send a few to people in your contact list, and include them with your holiday greeting cards. Tell them to use them wherever they go, and they can go to our site and request more too.
Businesses can use them to incentivize employees by putting an employee's name on one when they see them do something fitting. Keep the filled-in cards all in a box, and at the end of each month, the employee with the most cards gets a gift or some kind of recognition!
School teachers can incentivize good behavior in their classrooms.  Simply pass them out to students and tell them to write other students' names on them to compliment their classmates who they observed doing something fitting, and collect them in a small box. At the end of every month, the teacher can award something to the student who receives the most compliments.
Customers can write an employee's name on them and give them to their supervisor or manager to pay a compliment to that employee – then their manager knows that the employee did something good too!
If you are in the U.S. and would like to request cards, please provide your name and mailing address and choose the number of free cards you'd like to receive, and we'll drop them in the mail as soon as we can!
If you are outside the U.S., we can only send 25 free cards.  If you would like a greater quantity than this, please message us at i[email protected] (email link at the bottom of this page), tell us what country you're in and the number of cards you'd like to have, and we'll be in touch about the shipping charges that would apply.
"*" indicates required fields