23 More Students Received Scholarships!
April 11, 2022
/
/
Comments Off

on 23 More Students Received Scholarships!
On Saturday, March 19th, 2022, we celebrated 23 recent students for completing our Alive2Thrive personal life skills program. Each of the 23 students was awarded a $2000 scholarship — awards totaling $46,000! Their scholarship funds will be paid to any school of their choosing after high school graduation. Congratulations to these students, who are now on their way to winning the biggest game – LIFE!
We are so thrilled to help you THRIVE, not just survive!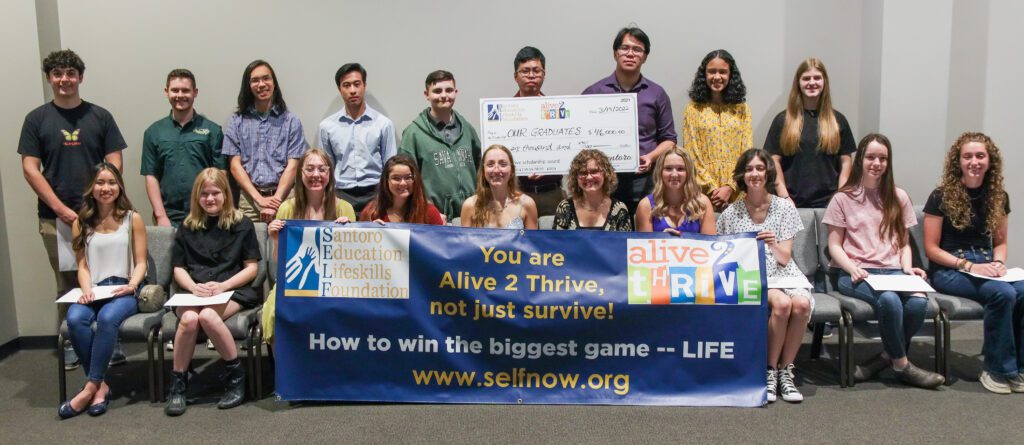 ​Scholarship recipients pictured are: (back row) Blaine Neck, Connor Cannon, Sean Gaffney, Lei Ogerio, Rizzo Henry, Kelvin Vu, Randy Nguyen, Leila Jackson and Cayley Pearce;(front row) Stephanie Nguyen, Madalyn Martin, Maggie Stansberry, Kenya Taylor, Hannah Kennedy, Elizabeth Mulconrey, Sienna Kennedy, Caroline Cannon, Naomi Reed and Savannah Stephens.
Scholarship recipients not pictured: Abby Frye, Avery Brooks, Ellie Corthinos and Katie Campbell